Imikino y'amahirwe yahawe icyizere cyo gufungura
1,869 total views, 3 views today
Kuri uyu wa Kabiri tariki ya 27 Ukwakira 2020, Perezida Kagame yayoboye Inama y'Abaminisitiri yafashe ingamba nshya mu rugamba rwo kurwanya ikwirakwira ry'icyorezo cya COVID-19 giterwa n'agakoko ka Coronavirus.
Iyi nama y'Abaminisitiri, yanzuye ko:
Insengero zemerewe gukora ku kigero cya 50% by'ubushobozi bwazo bwo kwakira abantu. Imihango yo gushyingura ntigomba kurenza abantu 75. Ibikorwa by'imikino y'amahirwe bizafungura mu byiciro.
Inama y'Abaminisitiri iheruka kuwa 12 Ukwakira 2020, yanzuye ko imodoka zitwara abantu mu buryo bwa rusange zemerewe gutwara abantu buzuye ku bagenda bicaye mu gihe izifite imyanya igendamo abahagaze izajya yakira kimwe cya kabiri cyabo.
Abaturarwanda bibutswa ko ari ngombwa kubahiriza amabwiriza yo kwirinda COVID-19 bubahiriza gusiga intera hagati y'umuntu n'undi, kwambara agapfukamunwa no gukaraba intoki n'amazi meza n'isabune cyangwa umuti wabugenewe 'hand sanitizer'.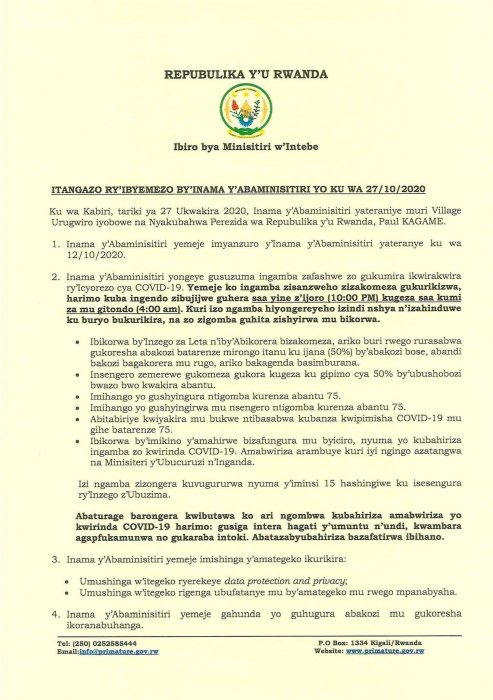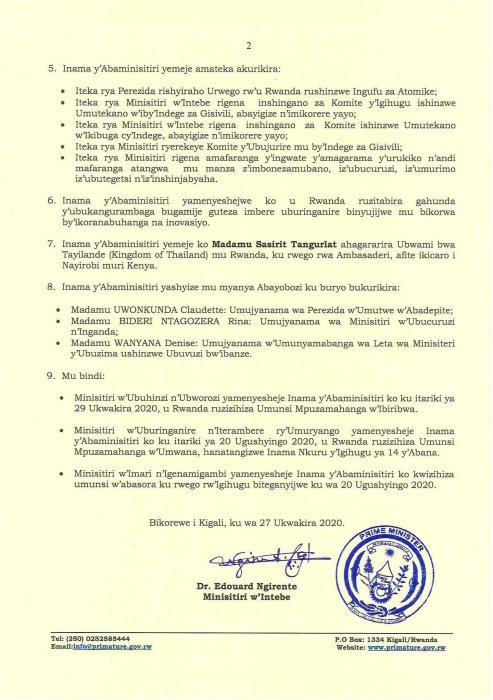 Mwamba.rw
Mwamba.rw is website that provides you with the latest Celebrity news, Politics, showbiz especially from  all nation of  E.A.C and all World in General.